We love creative people, who love to do new things. We are a creative visionary 3D filament manufacture. We are the first 3D filament manufacture in India. We love to help our future generations have a brighter future. We believe not only are we making good quality filament but we have a great price and new printing materials for the 3D printing industry. Our Ducho special product is our first new material for 3D printing. We are not only making filament but are making long lasting relationships with our customers. We strongly believe that in a short time we will make great advancement in the 3D printing industry and will always provide the best quality products.
We are a notable manufacturer and supplier of a wide range of 3D Printer Filaments. We always put our maximum efforts to provide our clients with the best class 3D printing materials and accessories. Located at Rajkot (Gujarat, India), we've established an ultramodern and capacious infrastructural unit that plays the most vital role in the expansion of our firm.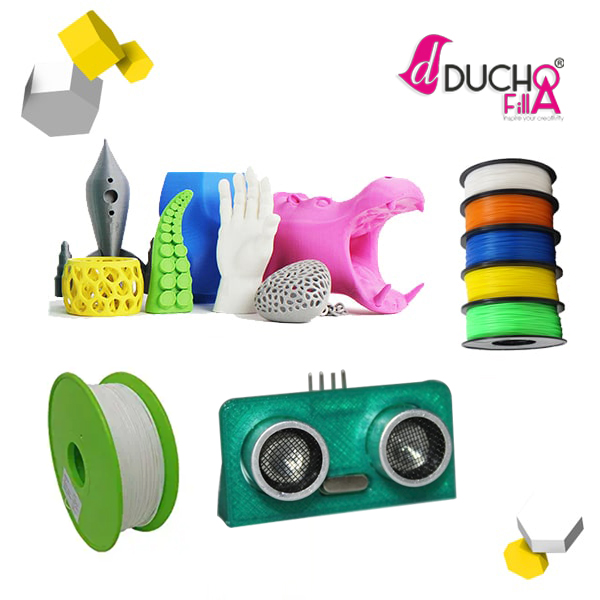 3D printing or additive manufacturing is a process of making three dimensional solid objects from a digital file.
The creation of a 3D printed object is achieved using additive processes. In an additive process an object is created by laying down successive layers of material until the object is created. Each of these layers can be seen as a thinly sliced horizontal cross-section of the eventual object.
3D printing is the opposite of subtractive manufacturing which is cutting out / hollowing out a piece of metal or plastic with for instance a milling machine.
3D printing enables you to produce complex (functional) shapes using less material than traditional manufacturing methods.
Blue colored ABS filament for 1.75mm, [1.00] kg